The Complete Package
Unlike other network monitoring products, we don't start you out on a basic and simplified (limited) version and have you buy additional plugins, features and licenses to build your complete network monitoring solution. We provide you with our full, no-compromise and complete version of our network monitoring solution, hardware included.
How many nodes or device licenses do you require? It doesn't matter any more!
For the first time since releasing our software in 2005, we are offering unlimited amount of device licenses with our Appliance Edition. This appliance can comfortably monitor up to 1000 network devices.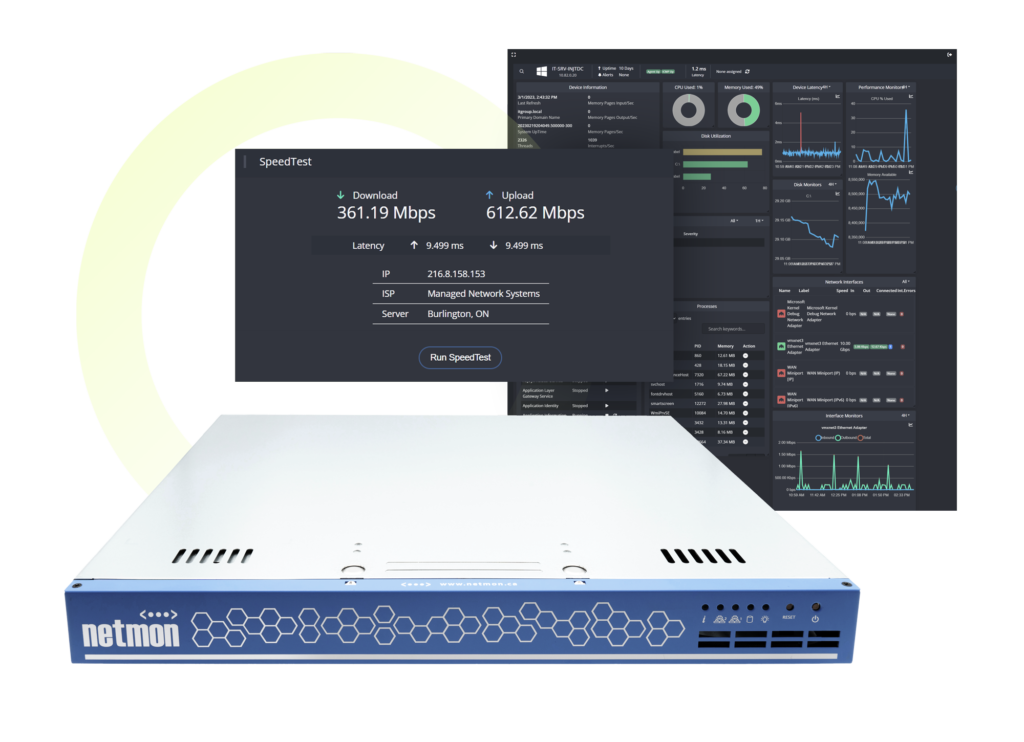 Appliance Edition
(Netmon-APP-XX)
Netmon provides you with full, no-compromise Network monitoring solution, hardware included!
Next Generation Netmon 1U Server Appliance
Unlimited Device Licenses
1-Year Maintenance and Support
1-Year Hardware Warranty
Guided Deployment (Up to 8 hours at no additional cost)
Specifications
Hardware Specifications
1U Server Appliance
Intel CPU – E-2288G 3.7 GHz 8-core
Memory – 16 GB DDR 4 2666 ECC RAM
Storage – 2 x 2 TB SSD + 10 TB Enterprise 7200 RPM Drive (for Log Data)
Network Connectivity – 8 x 1GB LAN interfaces, 2 SATA 3, IMMI, USB 3.0
Software Licensing
Netmon appliance runs on Debian Linux 10.x
Netmon appliance comes with latest version of Netmon 7.0 preinstalled and ready to go. For more information about our software please refer to our Product Overview Page
Warranty, Maintenance and Support Subscription
Your Netmon Solution includes a 1-year Maintenance and Support Subscription (included in the purchase cost). This can be renewed annually and includes:
Toll-Free Technical Support
Software Updates and Patches
Major & Minor Software Upgrades
Hardware Warranty (Parts and Labour including Full Product Replacement)
Guided Deployment
The hardest and most time-consuming part of any project is the implementation. Our highly experienced team will fully guide and assist you through the deployment of your new Netmon and then train you so that you can fully reap the rewards of your investment!
Your Netmon purchase includes up to 8 hours of Professional Services from our trained experts to assist you in deploying your new Network Monitoring solution.
Appliance Edition
(Extended Maintenance Plan)
1-Year Toll Free Technical Support
1-Year Software Upgrades
1-Year Software Updates and Patches
1-Year Hardware Warranty